8 December 2020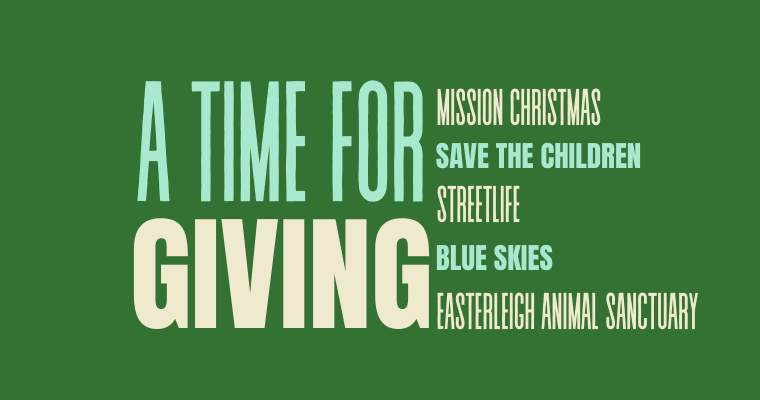 As Christmas approaches, we will be collecting for our Christmas Gift Appeal. This aims to encourage our pupils to give something back to the community and promote various charities at this festive time.
The charities we have chosen to support are to support Save the Children and Mission Christmas as well as 3 local charities: Streetlife, Easterleigh and Blue Skies Hospital Funds.
Below is information on who the donations will be going to along with some donation's ideas.
Christmas Jumper Day
On Friday 11th December we will be hosting Christmas Jumper Day in school to raise money for Save the Children.
We are asking that students attended school wearing a Christmas jumper, something Christmassy or even their own clothes to raise money for Save the Children. Please donate a £1 or two via Parent Pay or the collection buckets in school.
All donations big or small will help every child reaches their full potential. Save the Children make sure children stay safe, healthy and keep learning.
There will also be a prize for the best 'Christmas look'
To find out more about the charity please follow the link: https://www.savethechildren.org.uk/about-us/who-we-are
Mission Christmas
2020 has changed everything. As families unexpectedly face poverty, more and more children could be waking up on Christmas Day without anything under the tree.
You can help them by donating to our appeal. Donations can be made online, or you can donate a new and unwrapped gift at out drop-off point in school reception.
Any donation big or small will help a child in poverty.
To find out more about the charity please follow the link: https://planetradio.co.uk/rock-fm/charity/events/mission-christmas-lancs/
Streetlife
Streetlife is a local charity that provides shelter and support to vulnerable young people aged 16-25 in Blackpool. They have an emergency night shelter and day center. Streetlife are always very grateful for donations of the following.
Personal Care items, male and female – soaps, hair gel, moisturizer, NO SPRAYS please -if donating deodorants, they can only be roll on - thank you.
Secondhand clothing- jumper, t-shirt, Tracksuits, coats and shirts are all welcome. Steetlife are also excepting new underwear, new socks and new pajamas
All donations are welcome and can be donated via our drop-off point in the school's reception.
To find out more about the charity please follow the link: https://wearestreetlife.org/about/
Blue Skies
Blue Skies aims to give each of our patients a gift on Christmas morning. We usually ask for physical gifts but this year we need to do things differently and are asking for donations so we can buy gifts and keep everyone Covid safe. We can have up to 900 patients in the hospital on Christmas morning and with restrictions it is highly likely there won't be any visitors this year. We hope a gift will brighten their day and go some way to ease their loneliness. £5 will buy a gift and any donation towards this will be gratefully received. Donations big or small can be made through Parent Pay
For more information on the charity please follow the link: https://www.bfwh.nhs.uk/blueskies/
Easterleigh animal sanctuary
Easterleigh's aim is to rescue and re home unwanted, neglected and stray animals. They take in any kind of animal that is needs rescue. If you would like to support this Easterleigh animal sanctuary, please do so by donating the following items:
Dog food and cat food
Wild Bird peanuts and sunflower hearts
Treats for dogs
Polo mints and carrots for the horses
Cat nip treats and toys
All donations big or small, can be dropped off in the school's reception. Thank you.
For more information on the charity please follow the link: https://www.easterleigh.org.uk/about
Charity Posters
The appeal is from 8th until 16th December. Please do not feel obliged to contribute as this is entirely voluntary. We thank you in advance for your support in this appeal.