31 May 2013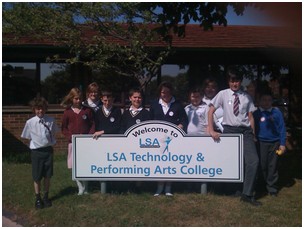 The move to secondary school can be an anxious time for all children but for quieter, shy children it can sometimes be particularly stressful. In order to help make the move easier, LSA Technology and Performing Arts College is once again running Pyramid Clubs.
Pyramid is part of a national charity and its aim is to provide support to quieter, more withdrawn children who may need help to speak up for themselves or make friends, thus building their confidence and self esteem. In turn, this will give them the opportunity to start Year 7 confidently and happily, ready to make the most of everything the LSA has to offer and to achieve both academically and socially.
Based at the School, Pyramid will run for children transferring from Year 6 at their primary school into Year 7. All Year 6 children in the primary schools that feed LSA, their parents and teachers will be asked to complete questionnaires to see if they are eligible to join the programme. In addition, all children who are offered a place at LSA but who do not attend 'feeder' primary schools will also be invited to join Pyramid, to help them make new friends and become familiar with the school before they start in September 2013.
Children who would benefit will be invited to join a Pyramid Club. The clubs run once a week for 10 weeks, for 1.5 hours, immediately after school. The clubs offer a range of activities which guarantee that the children have fun, relax, develop friendships and feel good about themselves. Experience from across the national network of Pyramid clubs already running shows how successful the clubs are at raising children's self-esteem and boosting their resilience. After Pyramid, children are better able to cope with day to day problems and are more comfortable working in groups.
There are likely to be several Pyramid Clubs running at the same time, each one catering for a maximum of 10 children. The clubs will be overseen by the LSA's Pyramid Co-ordinator, Susan Strother. Each club will be run by two trained and CRB checked adult volunteers assisted by one or two of LSA's own Sixth Form students.
If you are interested in volunteering to help at one of our Pyramid Clubs this year, please contact Susan Strother on 01253 733192, or see our school website here for more information. Volunteers should be over 18, male or female, and willing to have a CRB check undertaken. These opportunities are ideal for active retired people, students and anyone seeking experience working with children in a school setting.