3 June 2013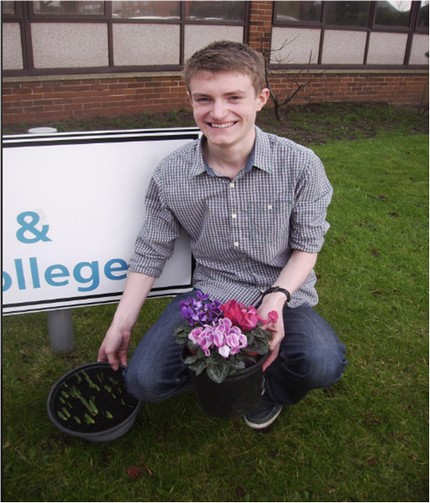 Everything in the garden is lovely for Year 13 A level Business Studies, Greg Anderton. When asked as part of his exams to develop a firm understanding of financial methods and have the ability to come up with innovative ideas, he decided to put theory into practice.
The talented student has already showed his gardening expertise in the school by sourcing funding and creating a memorial to former students who had died whilst still attending LSA . which is now a permanent and attractive feature at the school entrance. Also Greg has designed and planted other areas of the school grounds so this initiative was not unexpected.
He undertook the challenge of launching a spring catalogue to staff featuring a range of planted spring bulbs for sale. With the revenue from this venture he intends to raise funds to finance the revamp of other areas of garden around the site.
Alongside his Business Studies, he is studying English Literature, Music and Physics.
Greg said " After 6th form I hope to go on to a local university to study Business and Management. Combining my green fingers with this degree is an option for the future!".