23 September 2021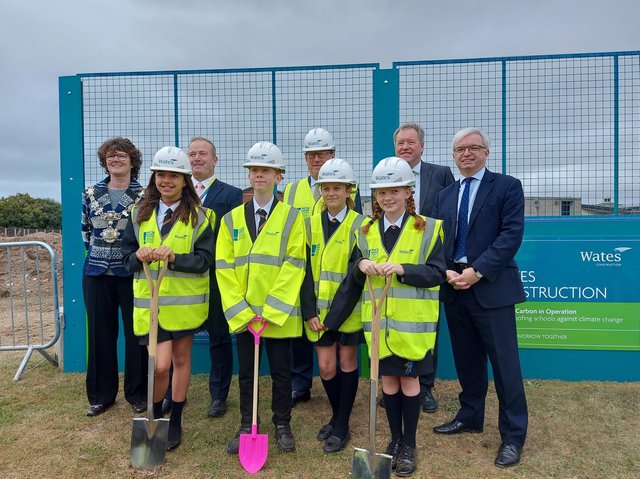 On Thursday 23rd September Fylde MP Mark Menzies, Fylde mayor Coun Elaine Silverwood, representatives of the Department for Education and staff from Wates Construction Group met with Mr Baker for a turf cutting ceremony to mark the start of the exciting building developments at Lytham St Annes High School.
Mr Baker said "While we have always believed that the success and strength of our school is in the pupils, the culture and the behaviour, it will be lovely to match our excellent reputation and track record in the classroom with first class facilities."
A new two storey, environmentally friendly school building and a separate new sports hall which will be located alongside the remaining existing buildings in a landscaped campus setting. The building will make use of passive ventilation chimneys, mechanical heat recovery systems and on-site offsetting of energy use through a bisolar roof system with the aim of reducing the carbon footprint and for our school to hopefully be a Net Carbon Zero site.
Fylde MP Mark Menzies hailed a bright future for local young people as the project got underway saying "I know the excellent leadership and teaching staff will ensure young people in Lytham and St Annes get the most out of this investment. This is a school at the heart of the community and with this new building will go from strength to strength offering young people the very best start in life."
Gary Campbell-Dykes, education director at Wates, said: "We are delighted to be supporting the Department for Education on this exciting and innovative project. The building is one of 100 projects funded by a £2bn investment through the School Rebuilding Programme".
Construction started on site beginning of September 2021 and we are aiming to complete the new buildings by early 2023, with the remaining works on site (building demolition etc.) due to be completed by mid 2023.
Source - Lytham St Annes Express and Blackpool Gazette.